Searching for some wedding cake design inspiration? This list contains 2017's favourite wedding cake designs, created by some of Australia's best bakers!
You can't have a wedding without a cake, and they have been a tradition at the celebrations for centuries. The modern wedding cake has roots from various historical eras, such as Ancient Rome, when bread was broken over the bride's head to symbol prosperity and fortune for the couple (which is where the modern tradition of 'cutting the cake' was derived) and Medieval England, when the cake was stacked high for the bride and groom to kiss over the top. A successful kiss meant that they would live a prosperous life!
Multi-tiered wedding cakes have since become a wedding staple. The traditional cake would be a fruit or light sponge cake with white or pastel coloured icing on the exterior. But in the modern age, brides and bakers get to have more fun.
Breaking away from the conventions, wedding cake designs can now reflect each couple's unique tastes and wishes. Whether you desire bright icing, no icing at all, flowers or fruit on top, or whacky personalised objects on top; any wedding cake design is within your reach.
With so much choice, the hard job is deciding which one of 2017s best wedding cake designs to opt for! Every cake, just like every wedding, is unique and should reflect your personal tastes, styles, wishes and needs.
Do you or your guests have any dietary requirements? Many bakers now offer gluten-free, dairy-free or vegan wedding cakes in popular designs, or wedding cake alternatives (pavlova is gluten-free and is hugely rising in popularity for wedding cakes!).
If you're having a themed wedding, you'll probably want to match your wedding cake design to the theme, so will need to find a designer able to do this. Think about your guest list, too; if there's lots of kids, a chocolate wedding cake might go down a treat, whereas an older crowd might prefer a vanilla or fruit flavoured wedding cake.
Here's ten of 2017's most popular wedding cake designs, that will no doubt be much loved for years to come!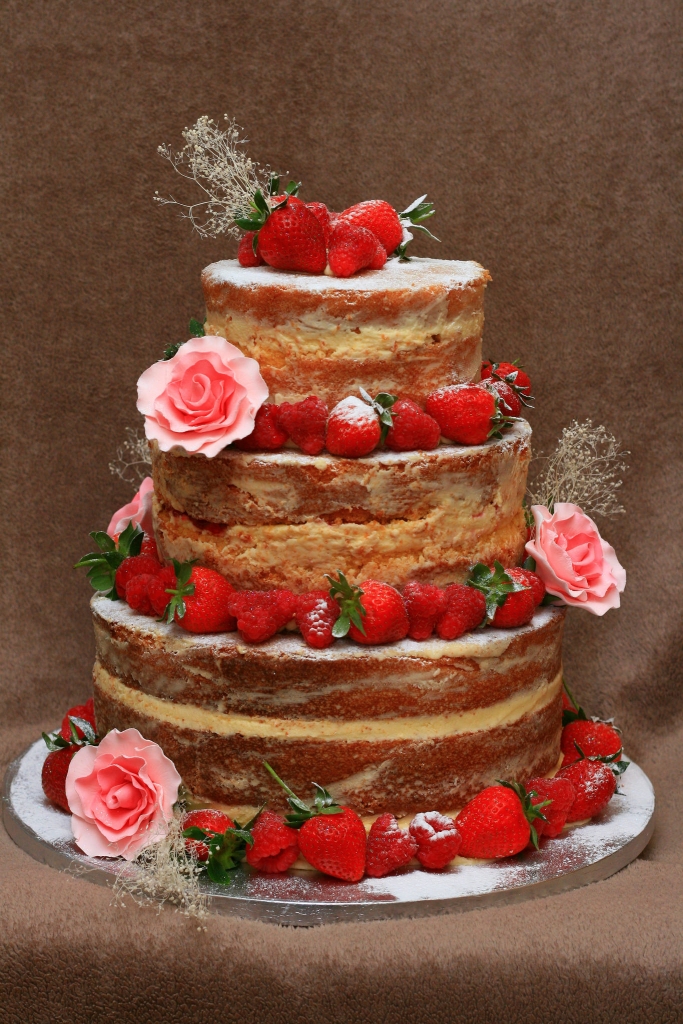 There's nothing rude about these naked cakes; they're simply a traditional wedding cake stripped of the icing. Naked cakes were invented two years ago and have been a popular wedding cake design ever since.
Particularly suiting rustic or vintage style weddings, Naked cakes are timelessly popular creations that you'll love slicing into after saying 'I do'.
Sydney company Art of Baking comments on the popularity of these aesthetically pleasing cakes, particularly with drip ganache around the edge and flowers on top. Naked cakes are Art of Baking's top wedding cake design for 2017, and with gorgeous creations like that pictured, it's easy to see why!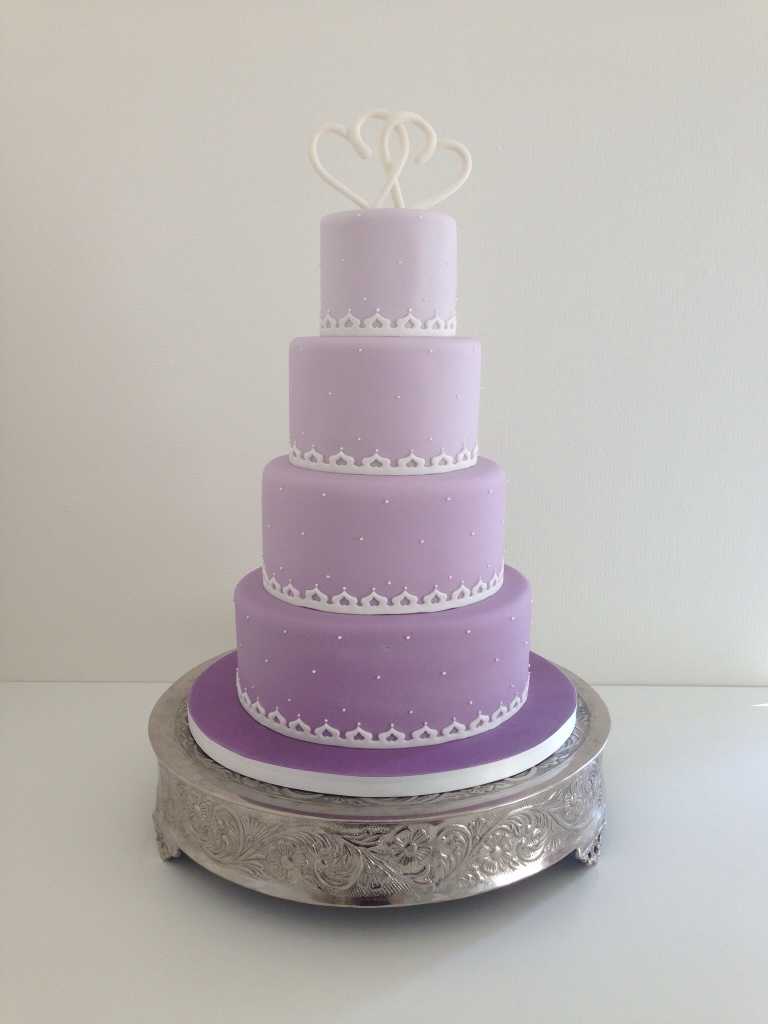 Ombre cakes gradually change in shade as the icing progresses up or down the cake. Typically the colour starts vivid at the bottom and ends pale or white, but variations are possible.
Any colour can create a great ombre effect, but popular ones are purple, pink or blue. Managing to be contemporary and classy at the same time, ombre cakes are a fantastic option for a boutique styled wedding.
Perth-based Charles and Violet are still experiencing a lot of popularity for ombre cakes in 2017, although it has been a popular type of cake for quite some time.
They are also noticing lots of interest in other types of cake; such as organic styles, textures and forms with a touch gloss or metallic. These can sometimes be combined with an ombre style to create a truly unique wedding cake design – it's completely up to the bride and groom!
No pictures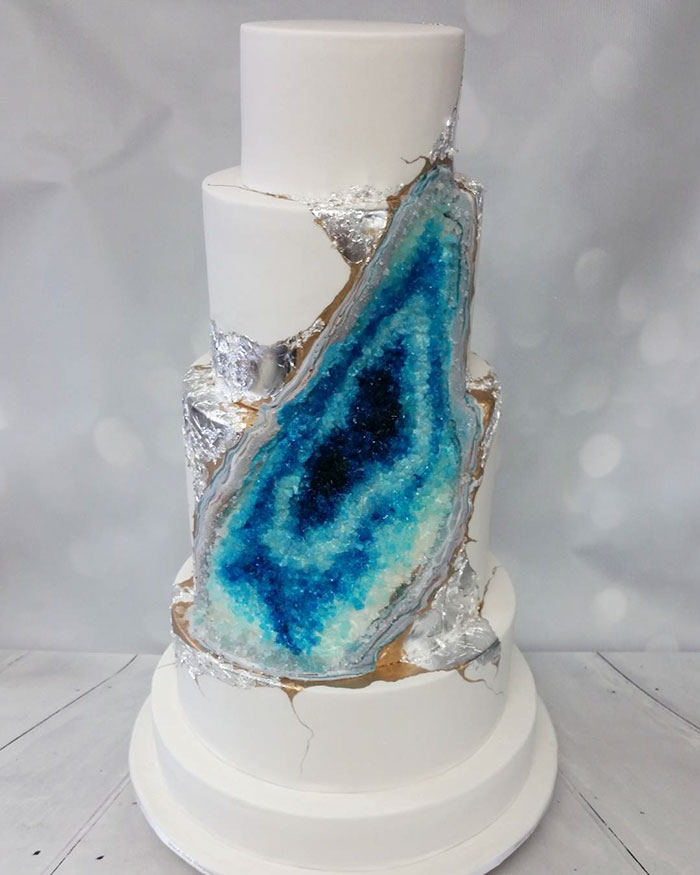 This fantastic Australian wedding cake design sees edible crystals stuck to the side of a traditional wedding cake, making the cake look like a stone like amethyst or sapphire. You could make your cake resemble one of your birthstones, or represent your love with a traditional love stone such as rose quartz. A geode cake at your wedding will no doubt leave your guests awe-struck and be the topic of conversation for months after!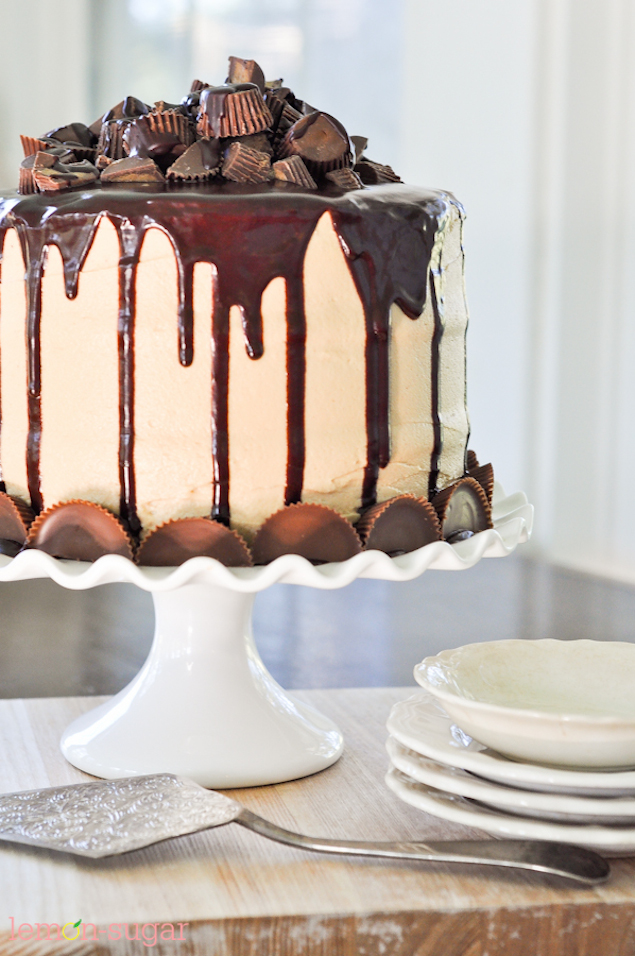 Could anything look as mouth-watering as these drip ganache cakes? Typically a chocolate flavour, the ganache is carefully spread to give the impression that it is dripping off the cake – in the reality it is stuck there, to allure you and your guests! Drip ganache cakes have been popular for a few years now, but they are a fantastic option for a 2017 wedding.
The Dessert Parlour, a popular cake company based in Melbourne, creates tantalizing Drip Ganache Cakes, which are most popular on semi-naked cakes and fully covered buttercream cakes – which are both popular wedding cake designs for brides in 2017 as well.
They pinpoint the popularity of these cakes to how adventurous brides are becoming with their cake ideas; which is a fantastic development, as it enables cake makers like The Dessert Parlour to get their creative juices flowing!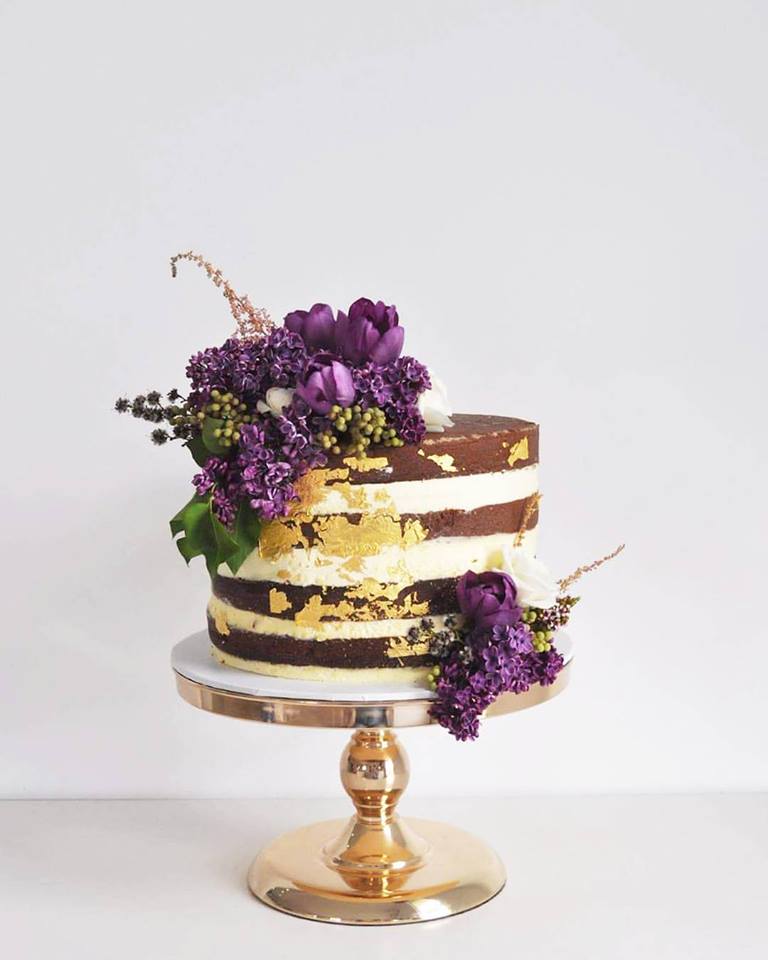 Gone are the days when flowers on your cake need to be piped on. Many wedding cake designers in Australia now make use of edible flowers, giving the wedding cake a fresh and charming feel.
Obviously, not all flowers are edible; but Bec from Petal and Peach – who offers many of her wedding cakes in a gluten-free version- recommends oversized flowers such as peonies or garden roses for a romantic, girly wedding and native foliage like almond macarons, caramel drips and blackberries for those searching for a more decadent or rustic theme.
Bec advises that no matter the flower, they will all look absolutely delightful on top of your wedding cake. The benefit of being able to choose between edible flowers mean that these cakes can suit any kind of wedding!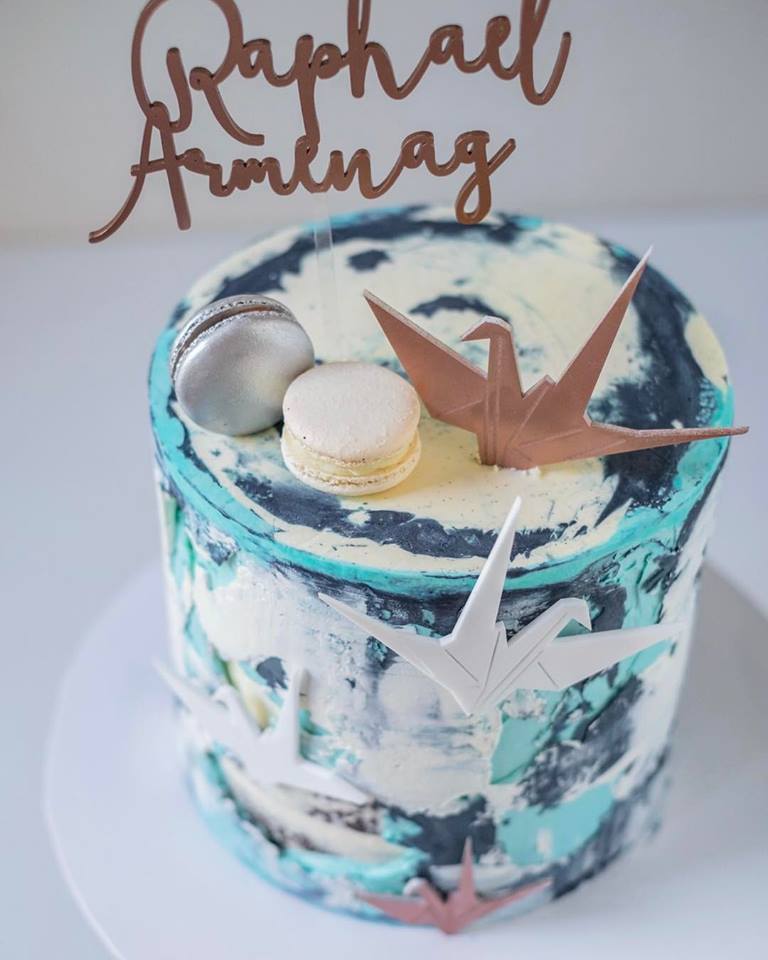 If you're having a themed wedding, you might want to look into one of these modern art wedding cake designs. With designs from unicorns to robots, these whacky wedding treats will amaze your guests!
Many wedding cake designers offer completely bespoke designs, so you have a free reign to determine what you would like. They're definitely a fantastic option for futuristic weddings in 2017!
Cakes by Cliff  in Sydney is making huge impressions with their contemporary art styled cakes, putting their popularity down to people wanting to express themselves and reflect their style and personality. A great idea; your wedding should be your own personal day, after all, and why not mirror this in your cake?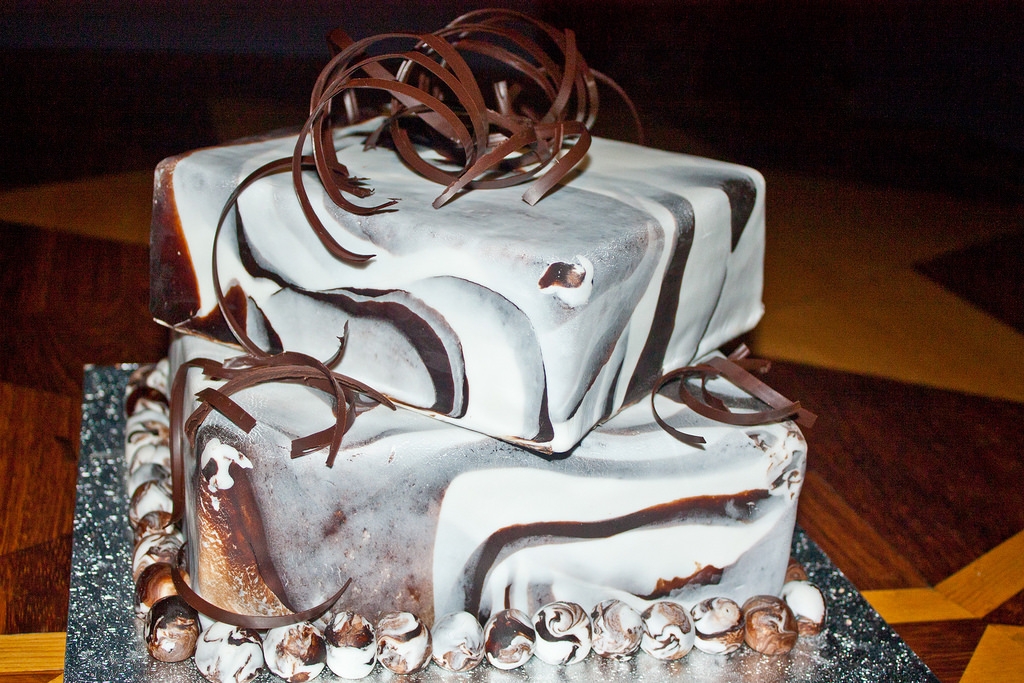 Marble Decorated Cakes are certainly not a new concept, but the novelty of the design still hasn't worn off in 2017. With a clever icing technique, the colours of the cake's exterior are blended to create a 'marbling' effect, which is suitable for any big white wedding!
Michael and Pina from Avanti Cakes create a lot of marble mud cakes for people who wish for a different kind of mixture flavour on their big day. They're also finding a surge in popularity for small cylinder cupcakes, for those wishing for something a little different on their wedding day.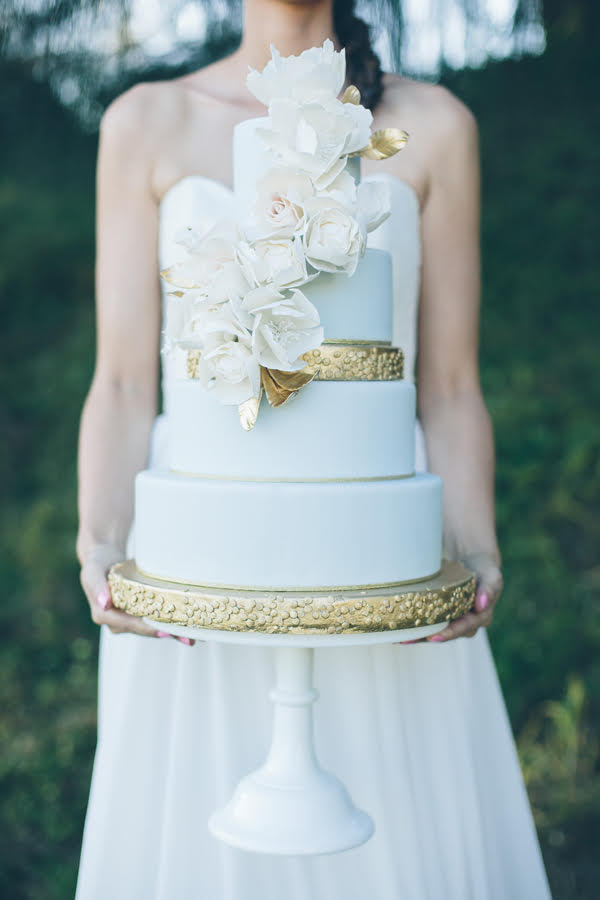 If you don't fancy edible flowers and want your cake decoration to match the icing itself, then a great option is icing peonies.
Amy at De La Rosa Cakes, based in Perth, has noticed her white wedding cake with elegant peonies and touches of silver and gold leaf has recently experienced a huge surge in popularity. She accredits this very romantic design's popularity to the amount of people who want romantic and girly wedding cakes.
Amy provides gluten-free cakes and has noticed these rising in popularity in recent years.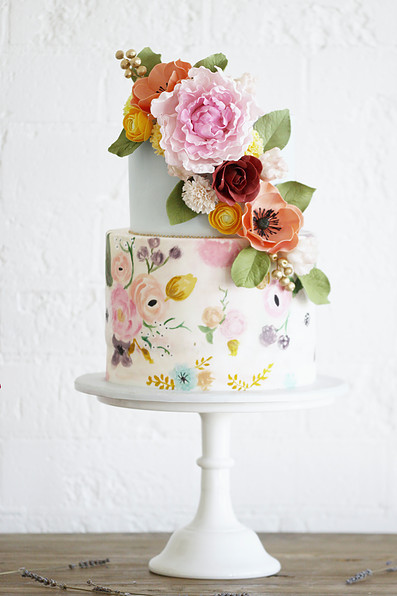 Unstructured cake designs such as watercolour cakes are becoming more popular in 2017, says cake maker extraordinaire Sweet Bloom Cakes, which is based in Ermington in New South Wales.
These gorgeous clean and unstructured cakes make use of various colour effects to give a wonderfully aesthetically pleasing centrepiece for your wedding. They break away from just one block colour and give the wedding guests a sensory experience with wonderful patterns. They can be created in semi-naked designs or with edible flowers on top.
Sweet Bloom Cakes are well versed in creating both these modern cakes and more traditional six tier, white cakes and can create most of their cakes in a gluten-free version.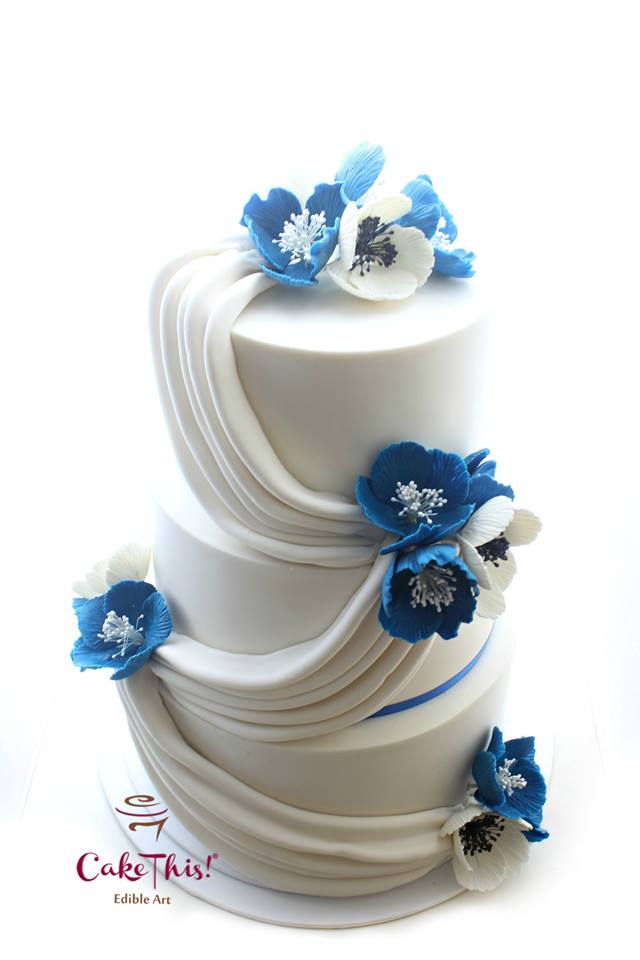 Sugar flowers are one of those timeless decorations that are always popular and, as each flower is created by the specific baker by hand. Juanita Barter from Cake This describes them as a 'labour of love' as they can add a cost to the wedding cakes, which often influences some people's choices.
Another similar wedding cake design for 2017 is the use of wafer flowers, which are created using similar techniques but that can be created in less time.
Cake This operate in Cairns and create a range of delicious wedding cakes, including gluten-free, if desired.
Which of 2017's best wedding cake designs is your favourite?
Whether you fancy a rustic design, something more traditional or something completely out of this world, one of these wedding cake designs should be perfect for you. From wherever you're located in the country – from Far North Queensland to South Western Australia – one of these suppliers will be able to accommodate your needs.
Contact any of the suppliers listed below for a bespoke quote about your perfect wedding cake design.
Congratulations and happy wedding planning!