One of the most frequently asked questions we have seen when it comes to wedding RSVPs typically centers on choosing appropriate wedding RSVP wording. What information should I include? What tone should I write them in? There is no "correct" way of wording a response card; however, there are important elements that you should include. Not only do your special guests need to know important information about your wedding, you will also need to get a final guest count. Without this, it would be difficult to properly proceed with the menu, place cards, seating chart and other planning details.
Invitations are typically sent out eight to twelve weeks before the wedding. This allows ample time for guests to clear their calendars and make any necessary travel arrangements, especially to those who live far away. If you are having a destination wedding, we strongly suggest sending your invitations out at least three months before the special event. This gives your guests extra time to plan and sort out anything passport/visa related.
Be sure to include an RSVP card along with your wedding invitations. We suggest making the RSVP deadline two to four weeks before the wedding date. This should give you plenty of time to contact anyone who hasn't RSVP'd, finalise your seating arrangements, provide your caterers with an accurate head count, and put together any finishing touches.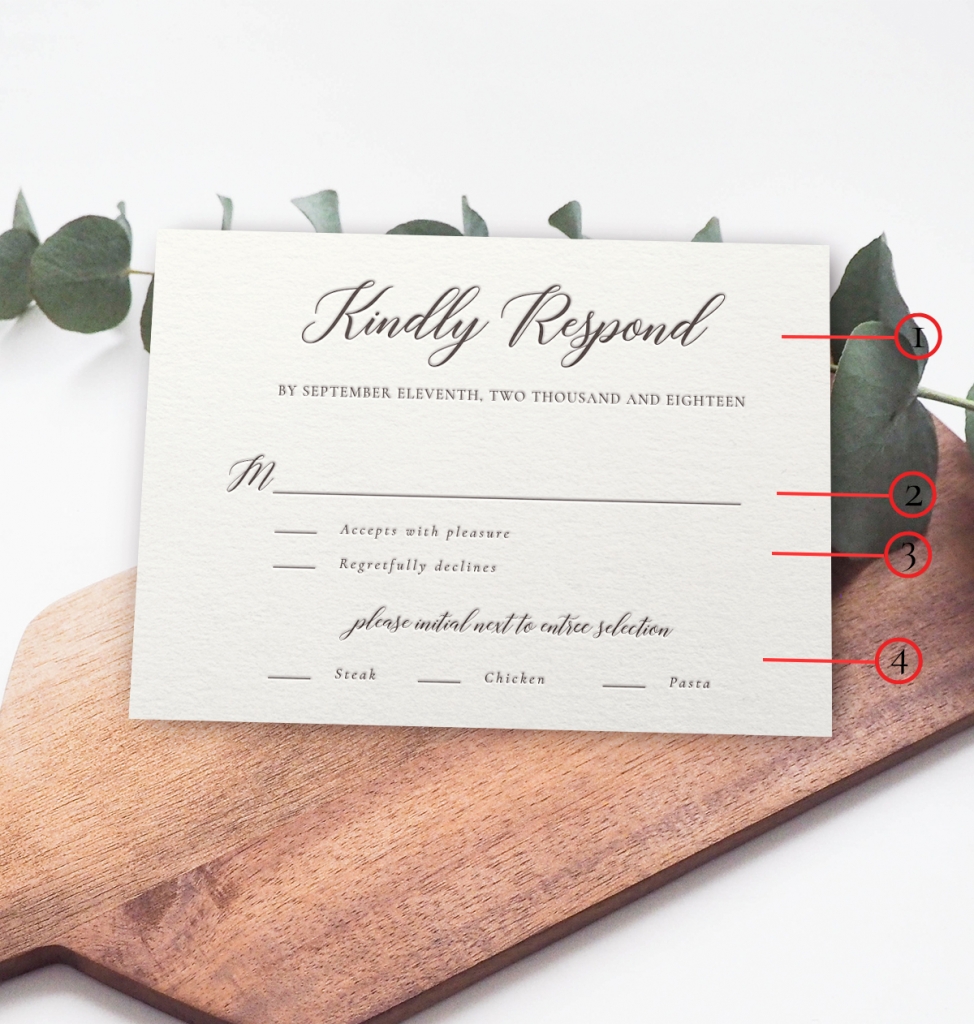 RSVP By Date
Ask your guests to RSVP by a specific date as it allows you to stay on schedule and reduce the chance of having to chase down anyone who hasn't RSVP'd.
Space for guests to write their name
Traditionally, your guests will write their names after the "M" on the RSVP – with the "M" as the first letter of Mr., Mrs., or Miss. Alternatively, you can write "Name" followed by a line.
Accept Or Decline?
Be sure to include a line that ask your guests whether or not they can attend your wedding. See below for alternative wordings!
Entrée Preference
This section depends on what you will be serving at the reception. For instance, it is not necessary to include this section if you are having a buffet. However, if you opt for multiple entrées, be sure to list the options, and ask your guests to to tick their entrée preference.
Now that we've explained everything you need to know about an RSVP, we've gathered a few wording options ranging from traditional to casual, and even the ones in between!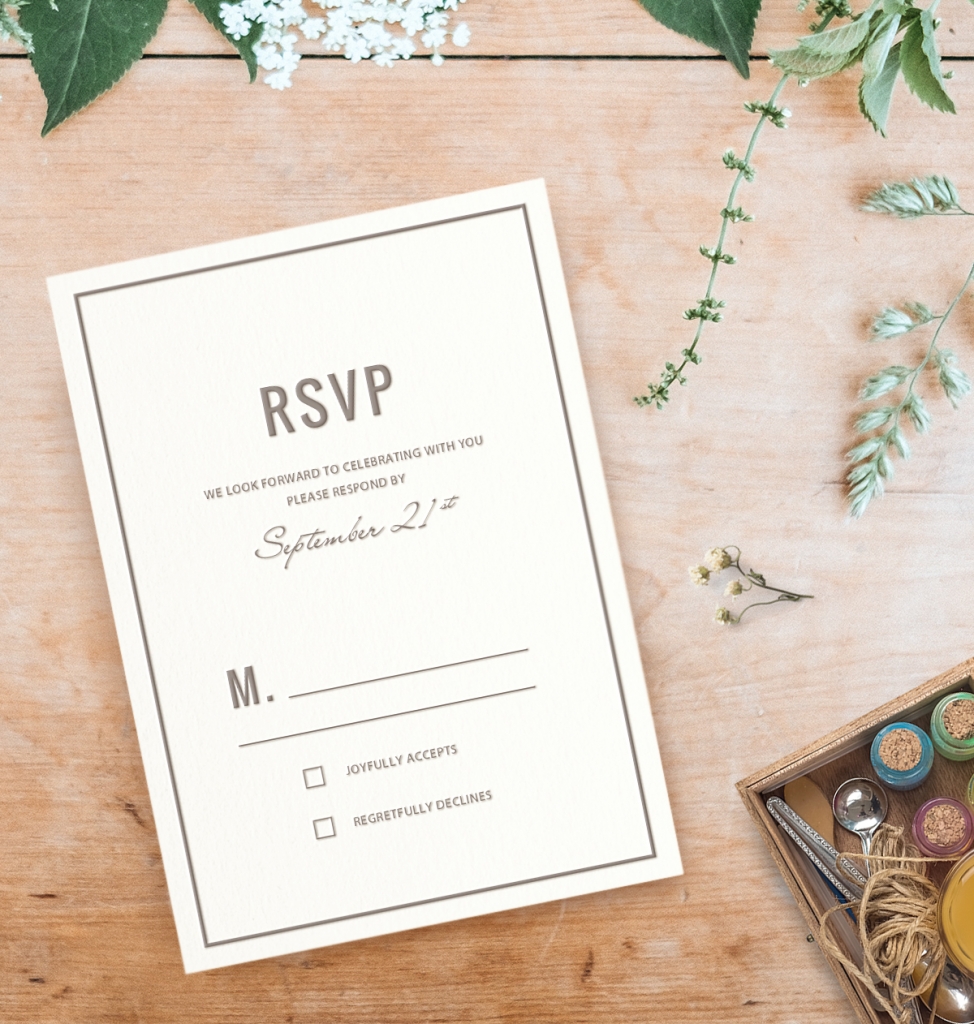 We look forward to
celebrating with you.
Kindly reply by June 1, 2018
M___________________________
☐ Graciously accepts
☐ Respectfully declines
We have reserved two seats in your honour.
M___________________________
☐ Accept with pleasure
☐ Decline with regret
The favour of a reply is requested by June 1, 2018
RSVP by the First of June
M___________________________
☐ Will attend
☐ Unable to attend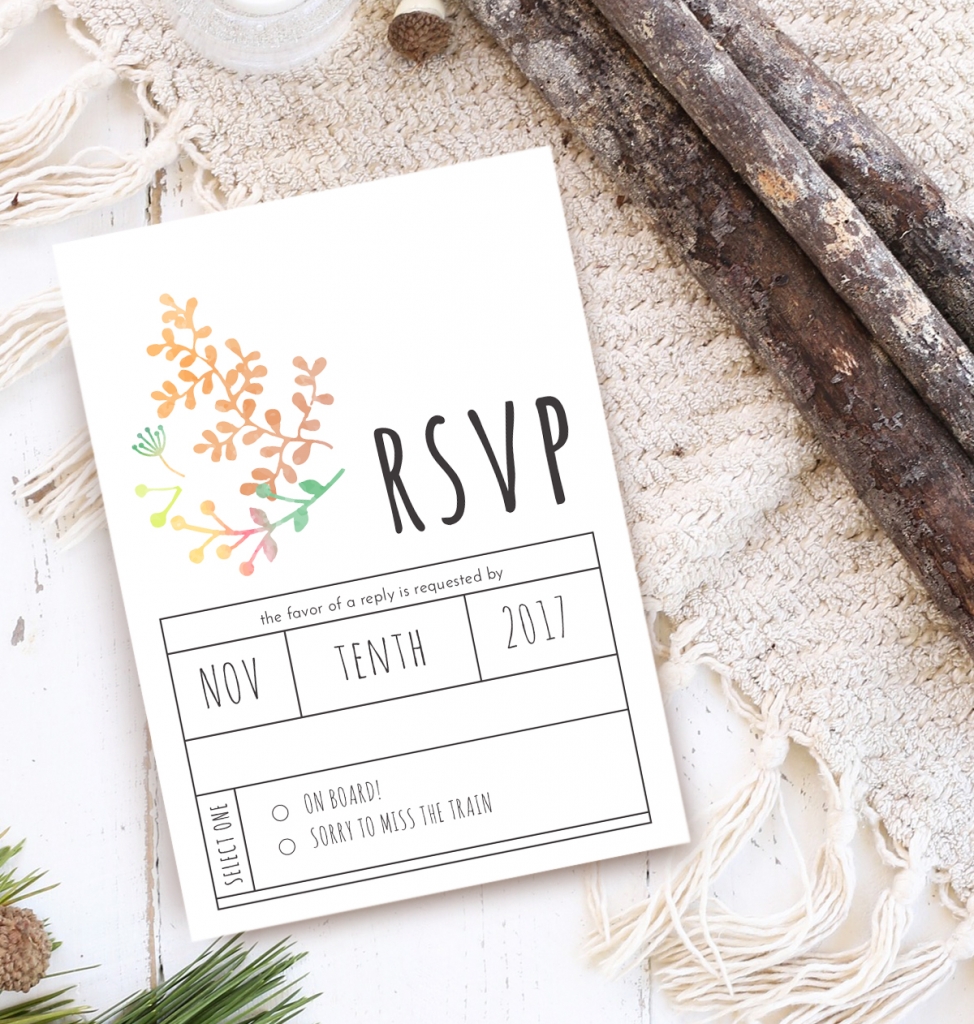 Names (s) ___________________________
☐ is/are looking forward to dining, dancing, and celebrating
☐ has/have to miss the fun
Please take a moment to fill in the blanks:
___________________________!
(Exclamation)
_____________ is/are ___________ to attend
(Your name(s))  (able/unable)
There are ___________ people in our posse.
(total number)
Kindly mail by June 1, 2018
Kindly reply before June 1, 2018
Name(s)
_____________________________
☐ Can't wait!
☐ Can't come!
Kindly Let Us Know By June 1, 2018
Name(s)
_____________________________
☐ Yes, the party don't start 'til I walk in!
☐ No, party on without me
We hope this was useful and that you gain inspiration from our samples. Remember that the wording of your wedding RSVP is entirely up to you, but should most importantly reflect you and your partner! If you have any questions, please let us know and we will be more than happy to respond. Be sure to check out our other blog posts for more tips and inspiration for your wedding. We wish you the best of luck in selecting the perfect wording.