Let's face it – asking for money in any situation can be quite uncomfortable and awkward. There are many reasons as to why a bride and groom would prefer to receive cash over wrapped gifts.
The couple may want to put it towards their honeymoon, keep it in savings, or may already have a gift in mind that they would like to purchase. Regardless of your reasoning, couples often use wishing well poems, as a way to gently ask for cash gifts. Depending on your personality and wedding theme, wishing well poems can be lighthearted or classic with a clear message. All in all, the aim is to ensure there are no misunderstandings and to not offend guests with your request.
Our two families have come together as one.
We really hope you can join in the fun.
A wishing well we thought would be great,
but only if you wish to participate.
A gift of money is placed in the well,
then make a special wish, but do not tell!
Please do not be offended by our request,
as our day is complete having you as a guest.
If you were thinking of giving a gift to help us on our way.
A gift of cash towards our house would really make our day.
However, if you prefer a gift, feel free to surprise us in your own special way.
Soon you will hear our wedding bell,
As friends and family wish us well.
Our household thoughts are not brand new,
We have twice the things we need for two.
Since we have our share of dishes and bedding,
We're having instead a wishing well wedding.
But more important, we ask of you,
Your prayers of love and blessings, too!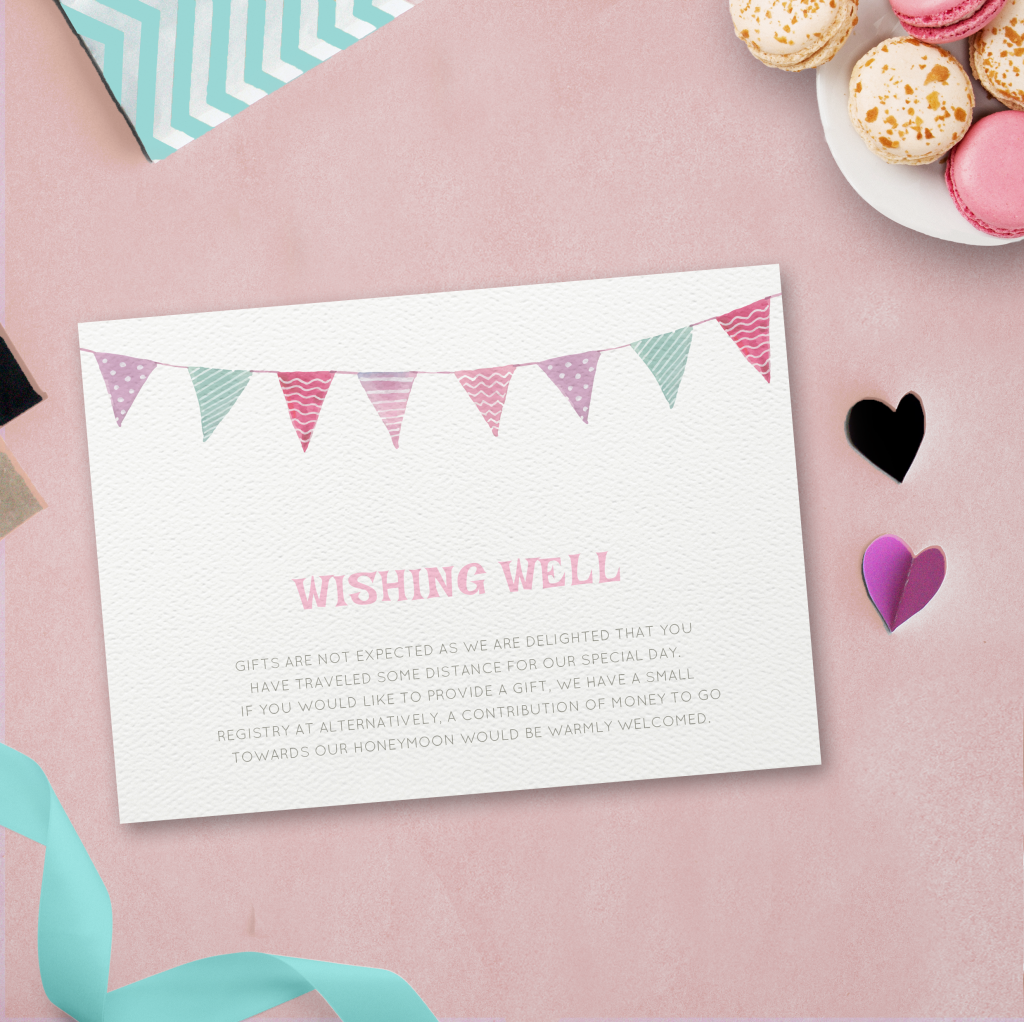 If finding a gift is hard to do,
Perhaps our wishing well is for you.
A gift of money is placed in the well.
Then make a wish… but do not tell.
If, however, a gift you'd prefer to find.
Be assured we will not mind.
We made a commitment,
some time ago,
that together through life,
we were destined to go.
To save you looking,
shopping and buying,
here is an idea,
we hope you'll like trying!
Come to our wedding,
to wish us both well,
and please make a donation,
to our wishing well.
Now we are to be Mr & Mrs
We don't need a wedding list of dishes.
A holiday is what we need, so your help
with this would be a great gift indeed.
Because at first we lived in sin,
we've got the sheets and a rubbish bin.
A gift from you would be swell but
we'd prefer a donation to our Wishing Well.
Your presence at our wedding is present enough.
But if we're honoured with a gift from you
May we respectfully request a gift of money
To help the building of our dream home come true!
If finding a gift is hard to do
Our wishing well is just for you
A gift of money is placed in the well
Then make a wish but do not tell
If it is, however, a gift you find
Please feel assure, we will not mind.
We don't want to offend, but we have it all,
All household goods and so much more.
To save you shopping, sit back and rest,
A gift of currency is our request.
Don't go overboard or rob a bank,
Any little thing will make us smile with thanks!
Now that we have saved you all the fuss,
It would be appreciated if you would
Come and celebrate with us!